Grade A Driving Instructor with Over 10 Years Experience
Learn to drive with a professional full time driving instructor. I have over 10 years experience as a driving instructor and 8 years as a top grade driving instructor. My driving test pass rate has always been above national and local driving test centre averages.
Choose the best driving instructor in Metheringham.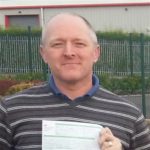 Drive a Mini One. Learn to drive in the awesome Mini One. It's just the perfect size for a new driver and is powered by a turbo charged 1.2L engine giving a modest 100PS. Not too powerful, yet powerful enough to allow me to teach you to drive properly.
Choose the best car for your driving lessons.